Miss Angelina
is pleased to offer a range of Victorian-style hats suitable to wear with Re-enactment or Steampunk outfits. These hand made, wired buckram hats are covered with fine fabrics and adorned with an assortment of feathers, flowers, ribbons and frou frous - hand sewn and not glued ! The hat crowns are fully lined, and labelled with the maker's name. ...

Please note: All hats are one size and are designed to 'perch' at a jaunty angle aided by the attached hat elastic, or held with hat pins.

All enquiries FAO Miss Angelina at searcherscornwall@yahoo.com

Custom orders welcome........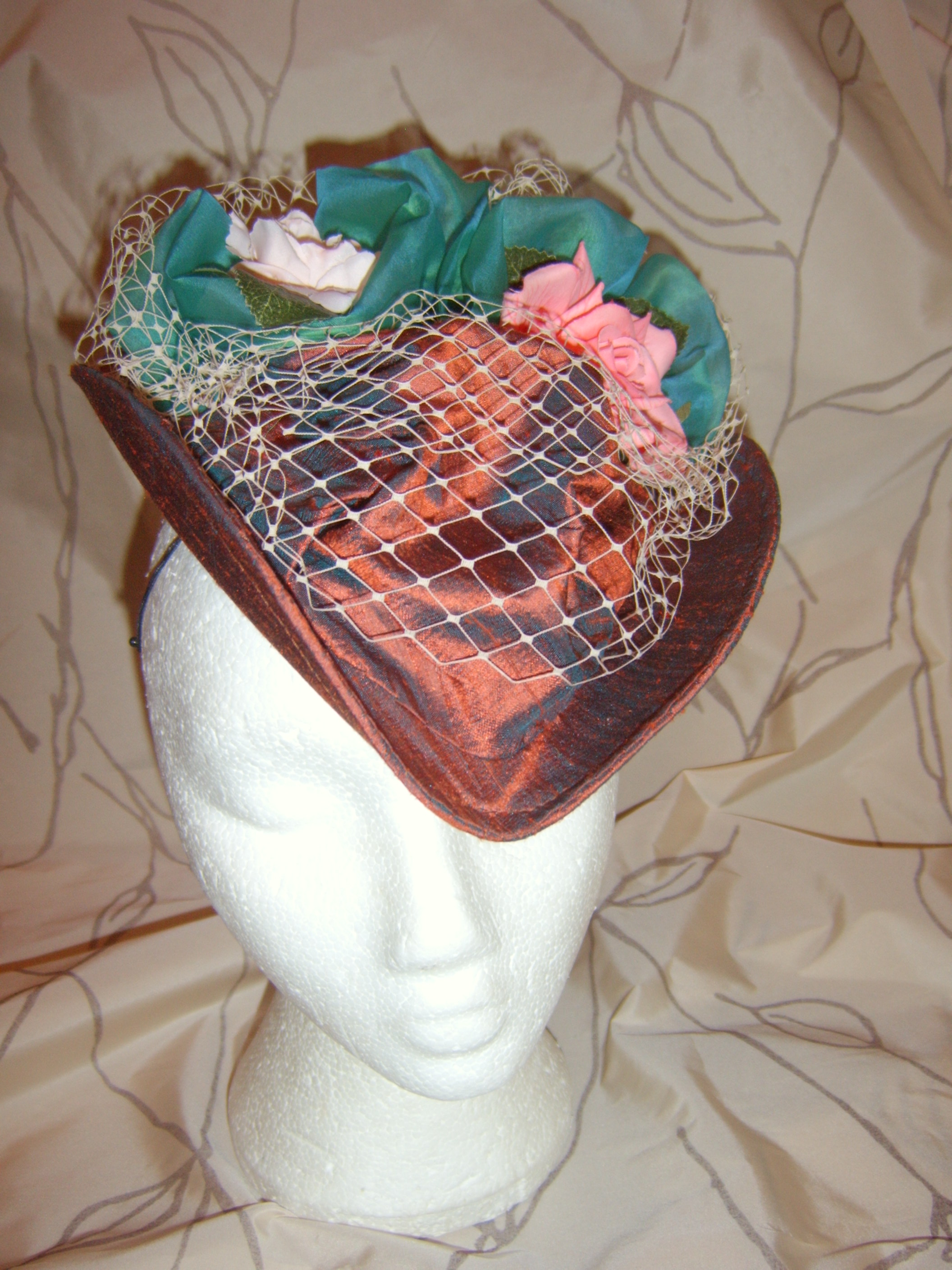 Enlarged view
Copper Tricorn

Covered in copper coloured shot silk, overlaid with cream veiling and topped with pink roses nestling in a ruche of seafoam green silk chiffon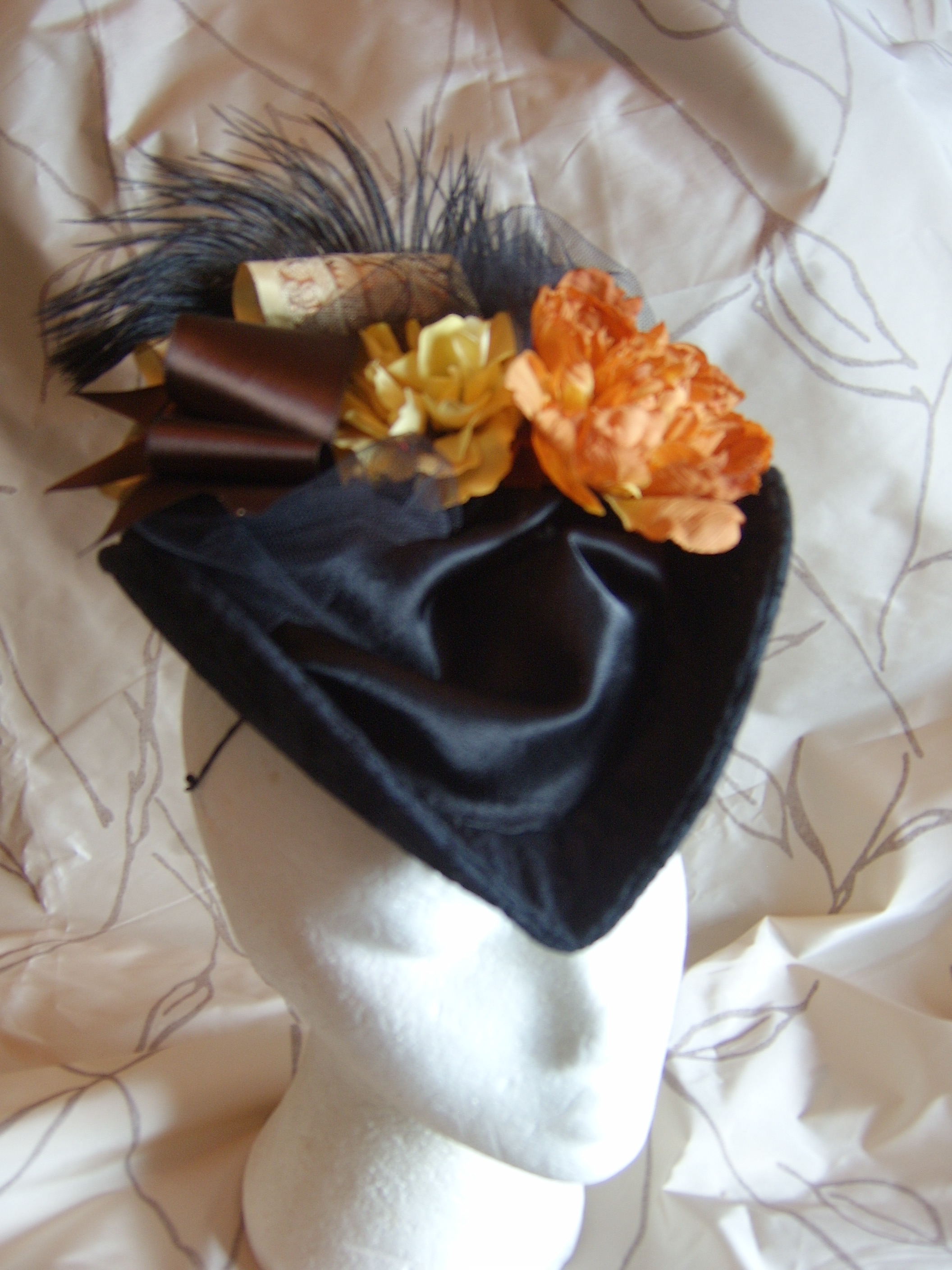 Enlarged View
Black Brocade Tricorn

A black brocade tricorn topped with black satin and charcoal tulle puffs, and embellished with gold and brown ribbons, and golden yellow and bronze silk flowers. A black ostrich feather completes this typically victorian colour combination.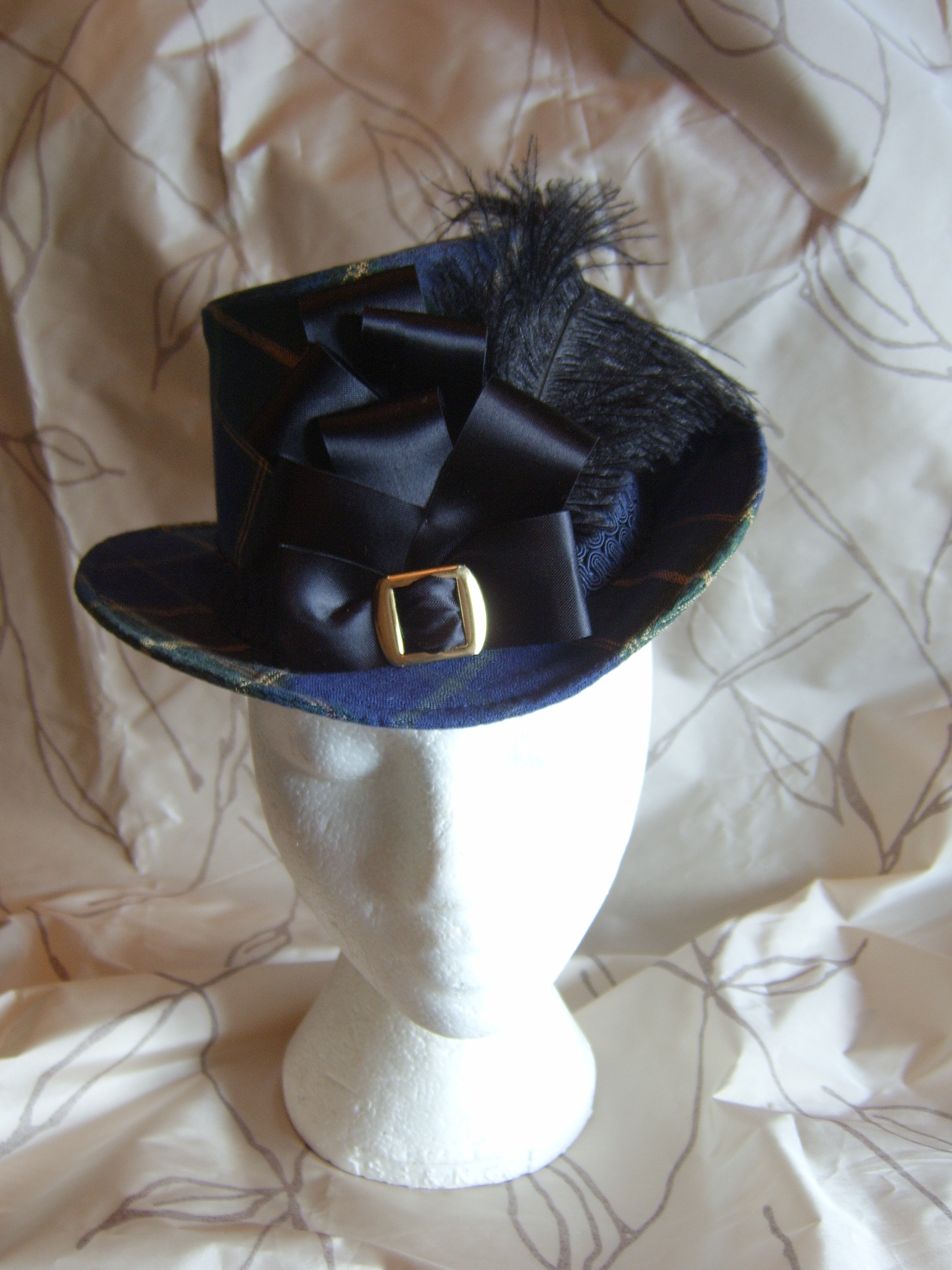 Enlarged View

Blue Tartan High-Crowned Hat

A stylish hat of the bustle era in navy, green and yellow plaid. The high crown is circled by navy braid, and the black satin ribbon cockade and sweeping black orstrich feather are held in place by a brass buckle.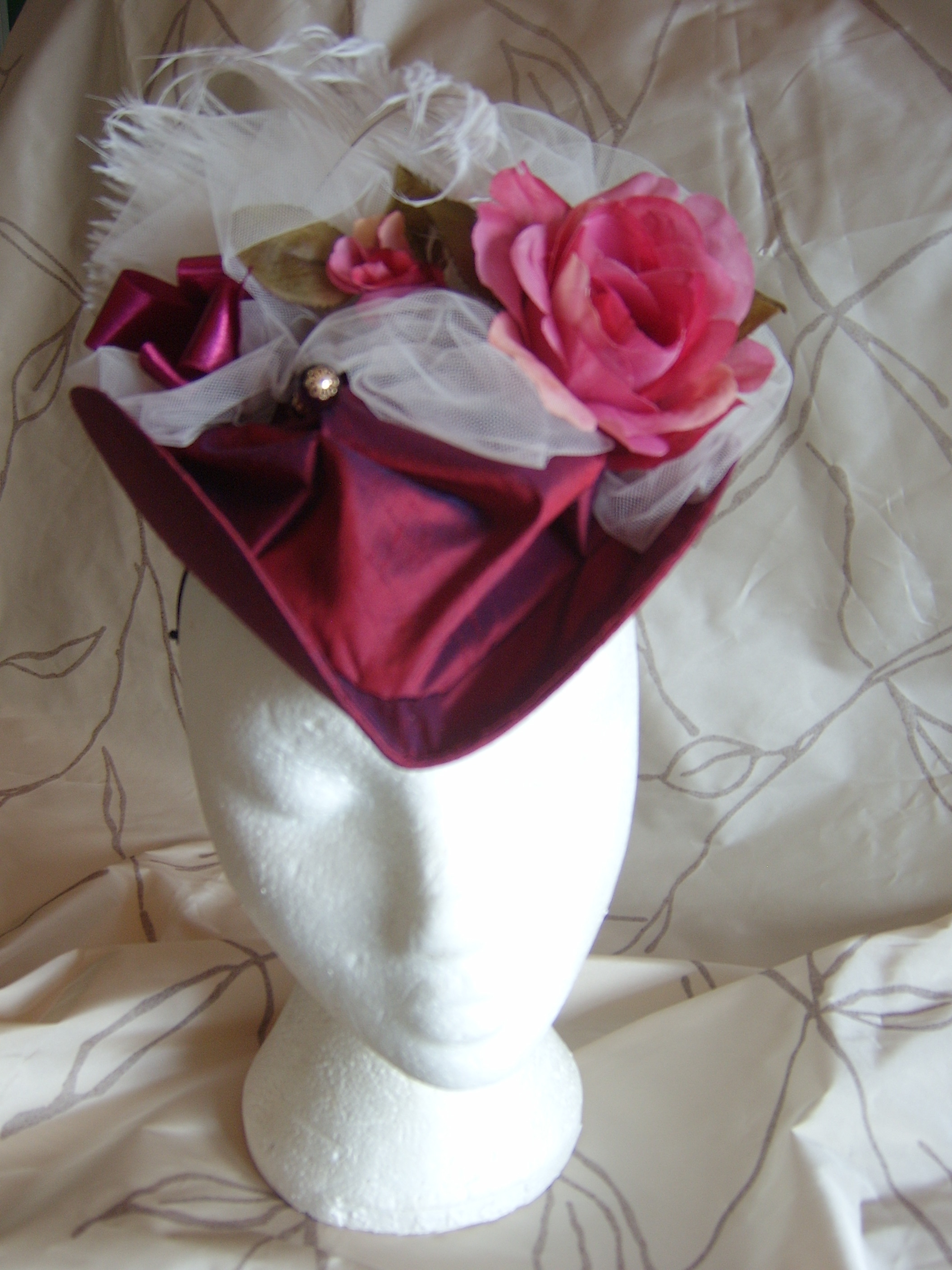 Enlarged View

Plum Silk Tricorn

This very feminine tricorn is of plum silk shot with a darker purple. A froth of ivory tulle supports deep pink silk roses and a wine satin ribbon bow, and the whole is backed by an ivory ostrich feather. A pearly hat pin with purple and gold is included.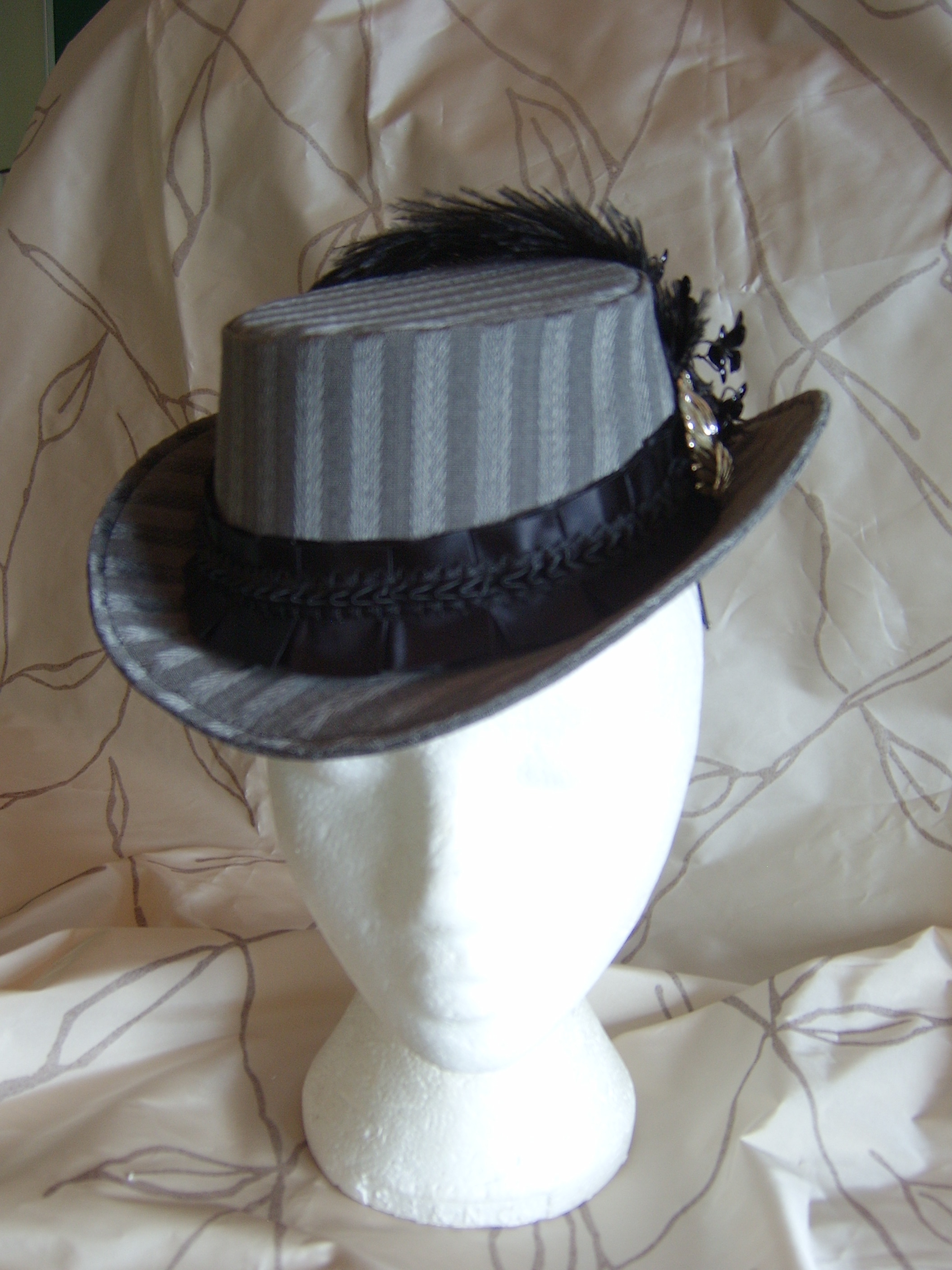 Enlarged View

Grey Medium-Crowned Hat


A smart tailored hat in a grey fabric with silky stripes. The hat band is box pleated satin ribbon overlaid with braid, and small shiny black flowers echo the curling black ostrich feather - all anchored by a silver tone leaf pin.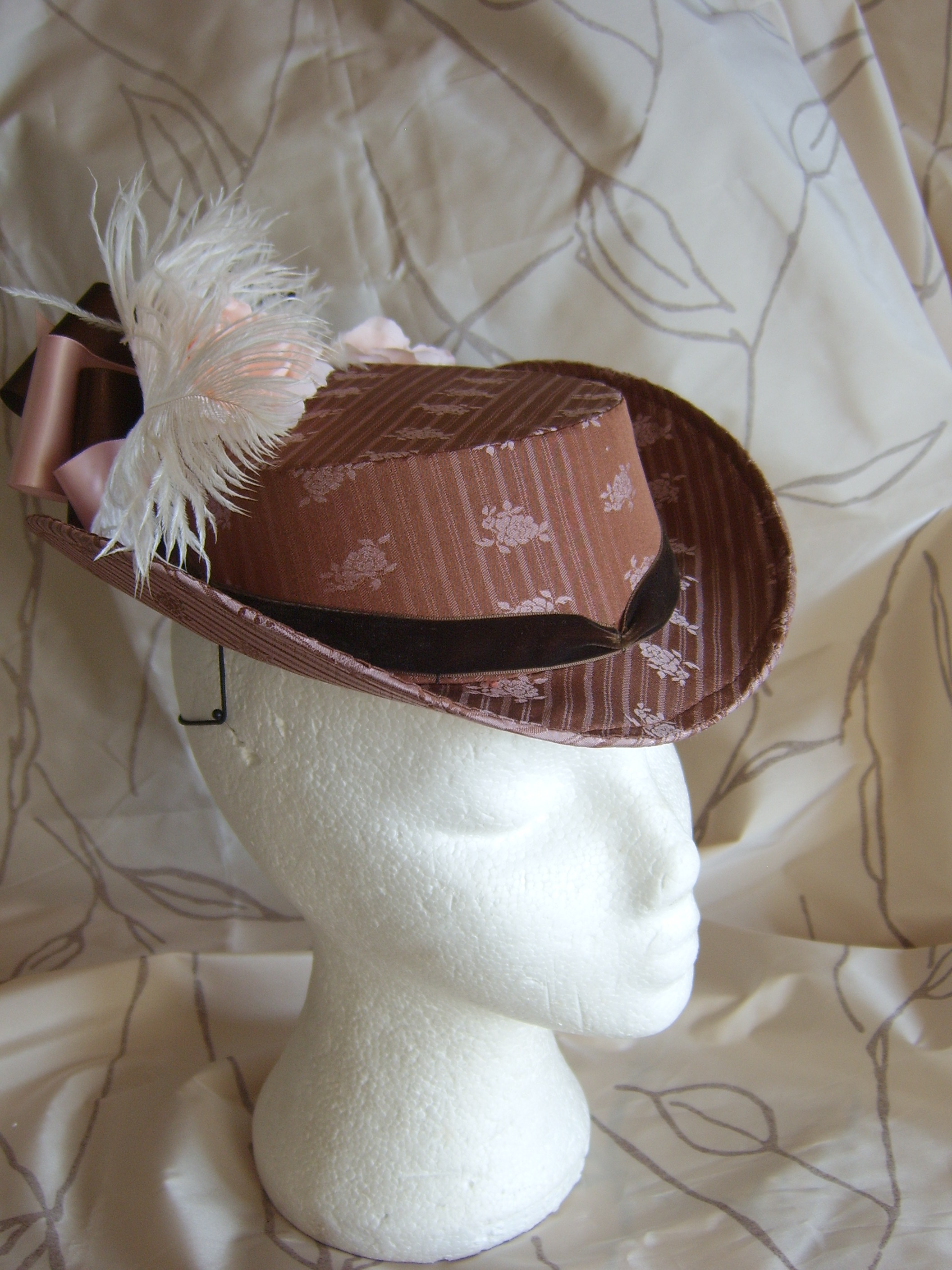 Enlarged View

Brown / Pink Low Crowned Hat

The top of this pretty low-crowned hat is a silky brown fabric with clusters of pink roses, whilst the underside is the reverse ie. pink with clusters of brown roses. The crown is circled by a band of brown velvet ribbon, and loops of brown and pink satin ribbons support an ivory ostrich feather and a scattering of pink roses.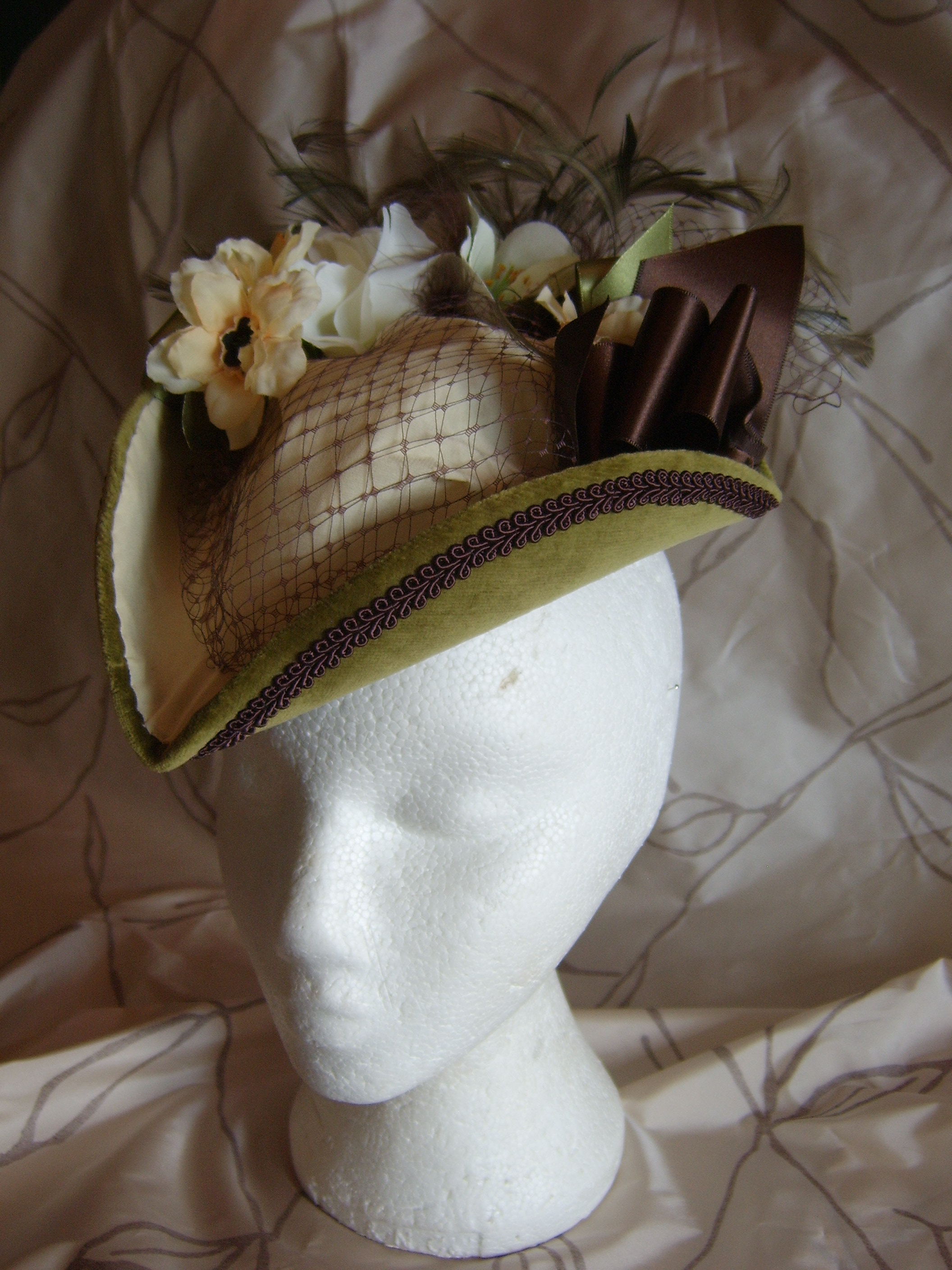 Enlarged View

Green Velvet Tricorn

The green velvet underside is accented with brown braid, whilst the pale yellow silk chiffon top is overlaid with brown veiling and an abundance of cream and buttery yellow blooms. Brown satin ribbon loops and a spray of sage green coq feathers complete the picture.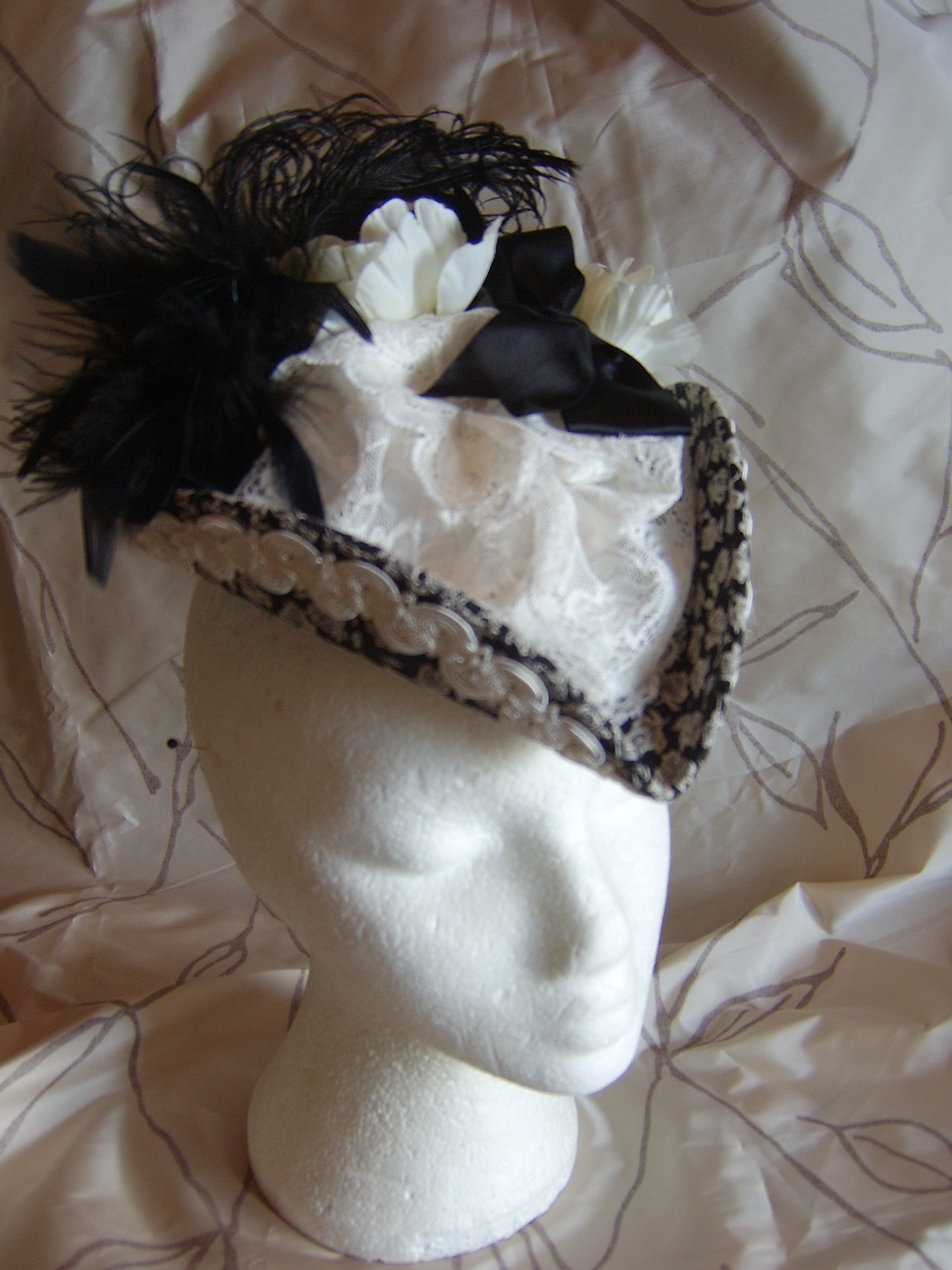 Enlarged View

Black & Ivory Tricorn

The ivory roses on a black background are complemented by the wide ivory braid which borders the edge of this tricorn hat. A froth of ivory lace overlaying ivory taffeta supports white poppies and a black satin bow, whilst black ostrich & marabou feathers give height to the arrangement.